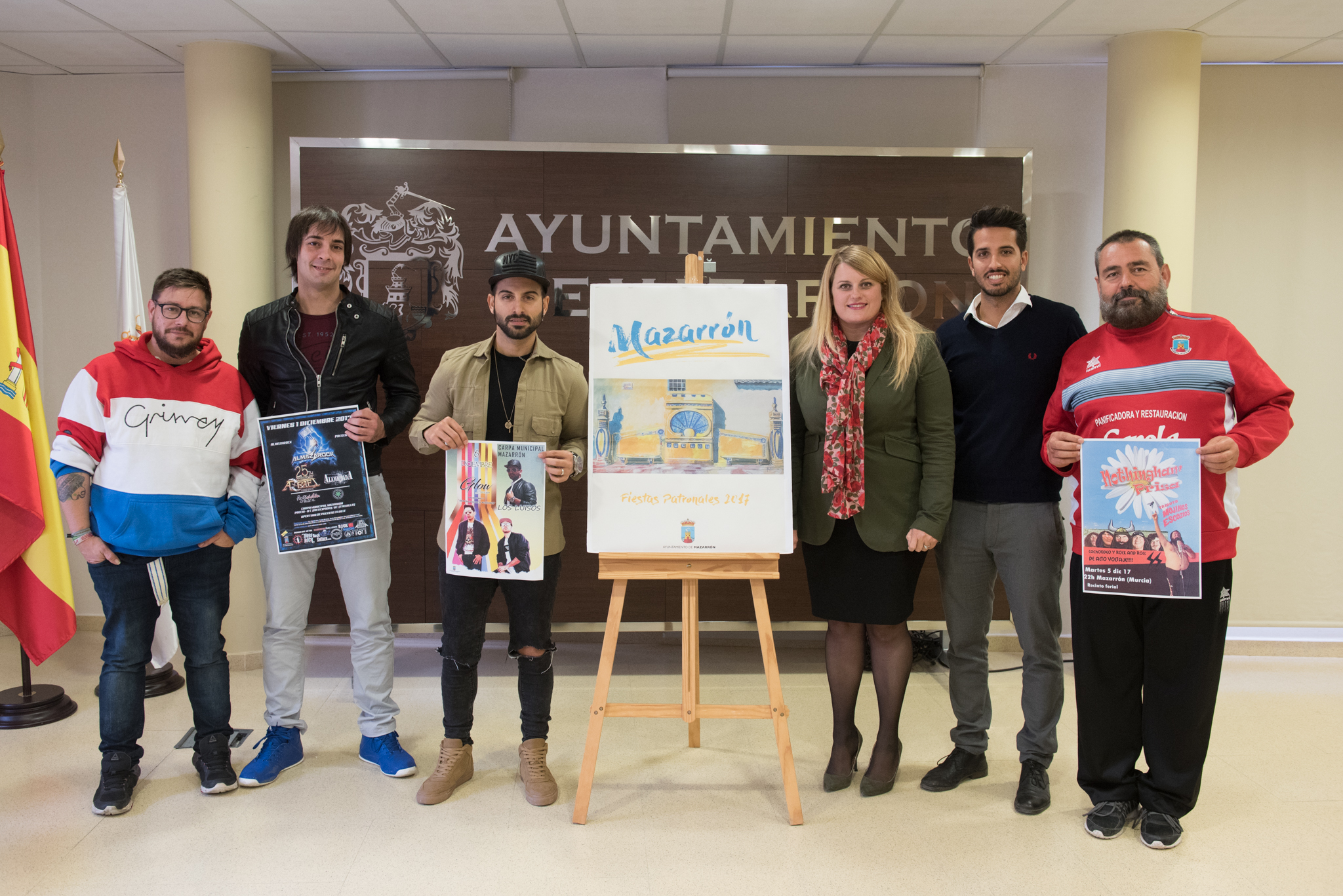 Mazarrón's annual Fiestas Patronales takes place between 1st and 10th December to honour the Virgin of the Immaculate Conception, and celebrate Constitution Day.
There's a tapas route coinciding with the fiesta, where you will be issued with a passport to be stamped by six of the participating establishments. Your passport must be deposited in the urn inside the indoor market by 13:00 on 10th December in order to be eligible to enter the prize draw taking place later that day.
Each tapa is priced at either 2 or 2,50 euros, and includes a glass of beer or a soft drink. Those participating in this year's tapas route are La Taberna, Cafetería La Fundición, Restaurante Guillermo, Hotel Costa, El Pilón, Descuadre, D'Pintxos, Bar Toni and Bar Miguel.
SCHEDULE
Friday, 1st December 2017
Cross-country race for school children @ Explanada de Bolnuevo from 10:00
Solidarity marathon @ Plaza de Convento and Plaza Toneleros, Puerto de Mazarrón, from 10:00
Opening of the fairground; all rides 2 for 1 until close @ Recinto Ferial from 17:00
Opening speeches @ Centro Parroquial de Mazarrón from 21:30
Performances by Azrael, Alambrada and Anticiclón plus special guests @ Recinto Ferial from 21:30. Tickets are available from Correos offices in Mazarrón and Puerto de Mazarrón, Cafetería La Fundición, Copo de Oro, Autorecambios Moreno, Tattooandbody and Todo o Nada Beach.
Saturday, 2nd December 2017
Shooting @ Campo de Tiro from 09:00
Pigeon racing @ Almacén de la Chrysler from 10:00
Cyclo-cross circuit @ Ciudad Deportiva from 15:00
Tennis tournament @ Polideportivo Bahía, Puerto de Mazarrón, between 19:00 and 22:00
Election of the fiesta queen @ Carpa del Recinto Ferial from 21:30
DJ set @ Carpa del Recinto Ferial from 00:00
Sunday, 3rd December 2017
Open-air painting competition @ Centro Cultural from 08:00
Election of the children's fiesta king and queen @ Carpa del Recinto Ferial from 17:30
Children's musical 'Soy Luna' @ Carpa del Recinto Ferial from 19:30
Tennis tournament @ Polideportivo Bahía, Puerto de Mazarrón, between 19:00 and 22:00
Monday, 4th December 2017
Athletics test @ Polideportivo Municipal Jesús Cánovas Valenzuela de Mazarrón from 16:30
2 for 1 on all children's rides @ Recinto Ferial from 17:00
Tennis tournament @ Polideportivo Bahía, Puerto de Mazarrón, between 19:00 and 22:00
Dance performances @ Carpa de Recinto Ferial from 21:00
DJ set @ Carpa de Recinto Ferial from 23:30
Tuesday, 5th December 2017
Day of the Elderly @ Carpa del Recinto Ferial between 13:00 and 18:00
Tennis tournament @ Polideportivo Bahía, Puerto de Mazarrón, between 19:00 and 22:00
Presentation of the book 'José Toral y Velázquez' by author Juan Romero Sánchez @ Casas Consistoriales from 22:00
Opening of the exhibition hall @ Universidad Popular from 22:00
Nottingham Prisa performance @ Carpa del Recinto Ferial from 22:00
DJ set @ Carpa de Recinto Ferial from 00:00
Wednesday, 6th December 2017
Homage to the victims of Mauthausen concentration camp @ Jardín de la Paz from 09:00
Conference about Día de la Constitución @ Casas Consistoriales from 09:30
Children's conference about Día de la Constitución @ Casas Consistoriales from 10:00
Homage to the Spanish flag to commemorate Día de la Constitución @ Avenida Constitución from 11:00
Opening of gAstrogAllo 2.2 @ Edificio la Cresta del Gallo from 12:00
Día del Tomate celebration @ Carpa Municipal on Avenida Constitución from 12:00
Conecta2 performance @ Edificio la Cresta del Gallo from 14:00
Feria de Día with DJ set @ Carpa Municipal between 14:00 and 21:00
Floral offering to the Patron @ Jardín de La Purísima to the Santuario from 17:30
Tennis tournament @ Polideportivo Bahía, Puerto de Mazarrón, between 19:00 and 22:00
El Luiso performance @ Carpa del Recinto Ferial from 23:00
Glow Bizness performance @ Carpa del Recinto Ferial from 01:00
Thursday, 7th December 2017
gAstrogAllo junior cookery competition @ Carpa Municipal from 12:00
Feria de Día with DJ set @ Carpa Municipal between 14:00 and 21:00
Tennis tournament @ Polideportivo Bahía, Puerto de Mazarrón, between 19:00 and 22:00
Mass @ Santuario de La Purisima from 19:30
Coexistence of the districts @ Carpa del Recinto Ferial from 20:30
'Noche de Fiesta' variety show @ Carpa del Recinto Ferial from 21:30
DJ set @ Carpa de Recinto Ferial from 00:00
Friday, 8th December 2017
Petanca championship @ Rihuete from 09:00
Santa Misa with a tribute to Cruz Roja and our Patron @ Residencia de Ancianos La Purísima from 09:00
Mass @ Santuario de La Purísima from 12:00
Feria de Día with DJ set @ Carpa Municipal between 14:00 and 21:00
The Tracks performance @ Carpa Municipal from 16:00
Santa Misa @ Santuario de La Purísima from 18:00
Solemn procession with the Patron @ Mazarrón from 18:30
Tennis tournament @ Polideportivo Bahía, Puerto de Mazarrón, between 19:00 and 22:00
Los Happys performance with Antonio Hidalgo @ Carpa del Recinto Ferial from 23:00
DJ set @ Carpa del Recinto Ferial from 01:00
Saturday, 9th December 2017
3×3 basketball tournament @ Pabellón de Deportes La Aceña from 09:00
Cockfight @ Carpa Municipal from 12:30
Feria de Día with DJ set @ Carpa Municipal between 14:00 and 21:00
Caliche tournament @ Explanada del Centro de Día from 17:00
Mass for the deceased before the rise of the Virgin @ Mazarrón from 20:00
Andy and Lucas performance @ Carpa del Recinto Ferial from 22:00
Fireworks @ Carpa del Recinto Ferial from 00:00
Sunday, 10th December 2017
Parade of floats @ Mazarrón from 11:00
Feria de Día with DJ set @ Carpa Municipal between 14:00 and 21:00
Reconversion performance @ Carpa del Recinto Ferial from 22:00