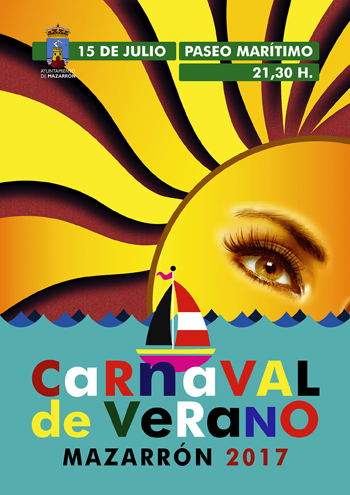 Mazarrón's annual Carnaval de Verano comes to Puerto de Mazarrón this Saturday, 15th July 2017, with a spectacular procession of colourful costumes and complex choreography.
Starting at 21:30 from Casa Rolandi, the parade will head along Paseo Marítimo, ending at Plaza de la Comunidades Autónomas. Some seating will be provided for a 1€ donation to the Red Cross, although you're welcome to bring your own if you prefer.
Over 650 participants from across the region are expected to star in this year's carnival, spanning 21 troupes of varying ages. After the procession, the troupes will then gather on the beach to be judged on their originality, choreography, colour scheme, headdress, spectacularity and elegance, and the overall five best troupes will be announced.
Troupes in Order of Appearance
Antonio Jara Infantil (68 members)
De Rosa Infantil (80 members)
El Tolín Infantil (30 members)
Fantasía de La Aljorra (40 members)
Sannay de Lorquí (40 members)
Mármara (25 members)
Titanes Bahía Sur (15 members)
Playas de Percheles (20 members)
De Rosa Juvenil (30 members)
Salsalá (27 members)
Tukán de Sangonera (20 members)
Agua Marina de Archena (18 members)
La Cañadica (15 members)
Ambarela (10 members)
Antares de Cartagena (40 members)
Media Luna de Librilla (25 members)
Pistonazo de Totana (50 members)
Imagine de Fuente Álamo (40 members)
Amay de Mula (17 members)
Peña El Tolín (20 members)
Esencia de Totana (27 members)
Have Your Say
Are you going to this year's carnival? Which troupe is your favourite based on previous carnivals? Leave a comment and let us know!